COUPON $500 OFF
Expires April 30, 2017. A COMPLETED PROJECT OF $4000.00 or more through this website. Can not be combined with any other specials. Must present this page to inspector at the time of appointment.
Waterproofing Wilkes Barre PA, Basement and Crawlspace Moisture Control
BBB A+ rated and HomeAdvisor top rated
Immediate response
Free estimates
We bill directly to insurance
Serving you since 1992
At Integra-Clean & Dry, we offer services for basement waterproofing systems, to help you prevent future flooding accidents and help restore walls and floors that have been damaged.  We have remediation specialist that deal with these kinds of situations. You don't have to live in a damp place that smells like mildew and makes everyone sick in your family, we can help you restore the areas of your home affected and help you get a better lifestyle. We use state of the art equipment to properly remove the water and dry your basement. Then we add basement waterproofing systems to maintain a dry healthy basement environment.
Wilkes Barre Basement Waterproofing Systems
Integra Clean and Dry LLC are basement and crawlspace waterproofing experts – a dealer for one of the largest waterproofing companies in the United States and Canada called, Basement Technologies. Most of the products we use are, patented for Basement Technologies. We can install a basement waterproofing system to control and eliminate the moisture and water coming into your basement, no matter what type of foundation you have. We can also perform installations in finished basements without removing all of the drywall. Most of our systems are completely enclosed underground. We have an enclosed sump pump system that blends into the ground so well, you don't even know it's there. We have hundreds of products that can be used for your basement, all you have to do is choose which products you would like.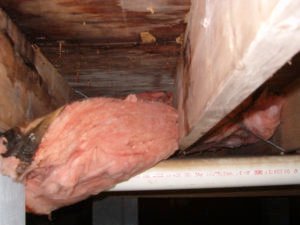 Your Wilkes Barre Basement is not doomed to be damp forever! We can fix it for you permanently! We are able to custom tailor a basement drainage system for your home, which matches perfectly to eliminate the moisture, or water entry problems you're having. You won't have to worry about water coming in the floor joints, cracks, bilco doors,or even from hydro-static pressure under ground, ever again! Our systems are able to remedy all of these problems and much more! We also can handle your sump pump installation. Call us and take your first step to a dry, safe, worry free home again! We guarantee it!
With guaranteed moisture control, our systems are completely self flushing and once the waterproofing system is installed, you will never have to have your basement torn apart again. We haven't ever met a wet basement we couldn't fix.
For a list of available products, go to BasementTechnologies.com.
Crawlspace Waterproofing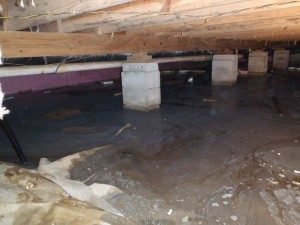 Nobody likes the thought of going into their crawl space, but when a disaster strikes in there,  and it's left to get worse, the moisture and the resulting mold causes the beams supporting the house to begin to deteriorate and become structurally unsound. This then just adds to the expense of stopping the damage and fixing the structure.
Let us help you stop the damage now, with our patented systems and solutions. It doesn't matter if you have dirt floors, stone floors or concrete floors.  It also doesn't matter if you have field-stone walls, concrete or cinder block walls. We can fix anything! We can do as little as a vapor barrier to eliminate moisture from seeping through the ground into the air of the crawlspace, up to a full encapsulation of the entire crawlspace, eliminating all outside air entering through floors or walls. We can also put an entire underground drainage waterproofing system in with sump pumps, or just add a pump. Our systems are fully customizable, so we can custom tailor it to your home. We are not rigid and can offer you what you want! It's up to you, but we' ll give you our best advice to fix your problem permanently!
Integra-Clean & Dry - Your Waterproofing Company
In price comparisons with other local Wilkes Barre companies, we have been told we are usually lower than the highest priced, but not the lowest price. We are very competitive with price and excel in service, product and quality.
Remember…a dry basement can be used for living space. Or you can use it for valuable storage space. Wouldn't it just be nice to not have to worry about water coming in, or mold growing in your basement or upstairs because of the moisture? Wouldn't it make you happy to stop worrying about mold and your family's health?
Call us today for your waterproofing estimate.
More About Wilkes Barre PA
Wilkes Barre's population exploded due to the discovery of anthracite coal in the 19th century; the economic boom resulted in the city being nicknamed "The Diamond City." Hundreds of thousands of immigrants flocked to the city; they were seeking jobs in the numerous mines and collieries that sprang up. Wilkes Barre was incorporated as a borough in 1806, and as a city in 1871, as a direct result of the population boom. At its peak, Wilkes Barre had a population of over 86,000 in the 1930s and 40s.
Today, Wilkes Barre is home to places such as the River Common.
We provide water cleanup services throughout Wilkes Barre PA, including 18701, 18702, 18703, 18704, 18705, 18710, 18711, 18764, 18765, 18766, 18767, 18769, 18773.
We will travel to you! Servicing basement waterproofing in all of Northeastern PA.
---

1-877-379-8669  | integraclean@gmail.com
570-676-8862 | 570-992-1553 | 570-696-6855
Copyright © 2017 Integra Clean & Dry LLC | All Rights Reserved