COUPON $500 OFF
Expires April 30, 2017. A COMPLETED PROJECT OF $4000.00 or more through this website. Can not be combined with any other specials. Must present this page to inspector at the time of appointment.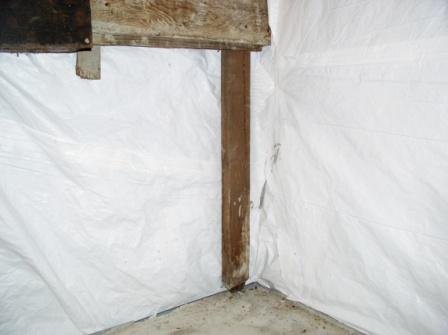 The Fieldstone Conduit™
"Improving basement waterproofing from the ground up."
Integra Clean & Dry L.L.C.'s Basement & Crawlspace Repair Technologies proudly introduces The Fieldstone Conduit™ … Innovative Solutions for Your Fieldstone Walls.
Crawl Space Moisture Control Solutions
Dirt crawl spaces are common in many homes and present unique problems for the homeowner.
inside the home transmits humidity, odors and radon gas. We at Integra Clean & Dry are experts in providing crawl space moisture control solutions
We will travel to you! Servicing all of Northeastern PA: Allentown, Stroudsburg, Wilkes Barre, Scranton, Milford, Pocono Pines, Tobyhanna Greentown, Newfoundland, Clarks Summit, Moscow, Lake Ariel, Cresco and all their surrounding areas.
mold removal Allentown, mold removal Stroudsburg, mold removal Wilkes Barre, mold removal Scranton, mold removal Milford, mold removal Pocono Pines, mold removal Tobyhanna, mold removal Greentown, mold removal Newfoundland, mold removal Clark Summit, mold removal Moscow, mold remediation Allentown, mold remediation Stroudsburg, mold remediation Wilkes Barre, mold remediation Scranton, mold remediation Milford, mold remediation Pocono Pines, mold remediation Tobyhanna, mold remediation Greentown, mold remediation Newfoundland, mold remediation Clark Summit, mold remediation Moscow, toxic mold removal Allentown, toxic mold removal Stroudsburg, toxic mold removal Wilkes Barre, toxic mold removal Scranton, toxic mold removal Milford, toxic mold removal Pocono Pines, toxic mold removal Tobyhanna, toxic mold removal Greentown, toxic mold removal Newfoundland, toxic mold removal Clark Summit, toxic mold removal Moscow, crawlspace waterproofing Allentown, crawlspace waterproofing Stroudsburg, crawlspace waterproofing Wilkes Barre, crawlspace waterproofing Scranton, crawlspace waterproofing Milford, crawlspace waterproofing Pocono Pines, crawlspace waterproofing Tobyhanna, crawlspace waterproofing Greentown, crawlspace waterproofing Newfoundland, crawlspace waterproofing Clark Summit, crawlspace waterproofing Moscow, crawl space moisture control Allentown, crawl space moisture control Stroudsburg, crawl space moisture control Wilkes Barre, crawl space moisture control Scranton, crawl space moisture control Milford, crawl space moisture control Pocono Pines, crawl space moisture control Tobyhanna, crawl space moisture control Greentown, crawl space moisture control Newfoundland, crawl space moisture control Clark Summit, crawl space moisture control Moscow, basement water damage repair Allentown, basement water damage repair Stroudsburg, basement water damage repair Wilkes Barre, basement water damage repair Scranton, basement water damage repair Milford, basement water damage repair Pocono Pines, basement water damage repair Tobyhanna, basement water damage repair Greentown, basement water damage repair Newfoundland, basement water damage repair Clark Summit, basement water damage repair Moscow, basement waterproofing services Allentown, basement waterproofing services Stroudsburg, basement waterproofing services Wilkes Barre, basement waterproofing services Scranton, basement waterproofing services Milford, basement waterproofing services Pocono Pines, basement waterproofing services Tobyhanna, basement waterproofing services Greentown, basement waterproofing services Newfoundland, basement waterproofing services Clark Summit, basement waterproofing services Moscow, basement waterproofing Allentown, basement waterproofing Stroudsburg, basement waterproofing Wilkes Barre, basement waterproofing Scranton, basement waterproofing Milford, basement waterproofing Pocono Pines, basement waterproofing Tobyhanna, basement waterproofing Greentown, basement waterproofing Newfoundland, basement waterproofing Clark Summit, basement waterproofing Moscow, Emergency Water Restoration Allentown, Emergency Water Restoration Stroudsburg, Emergency Water Restoration Wilkes Barre, Emergency Water Restoration Scranton, Emergency Water Restoration Milford, Emergency Water Restoration Pocono Pines, Emergency Water Restoration Tobyhanna, Emergency Water Restoration Greentown, Emergency Water Restoration Newfoundland, Emergency Water Restoration Clark Summit, Emergency Water Restoration Moscow, mold removal contractors Lake Ariel, mold remediation services Lake Ariel, toxic mold remediation Lake Ariel, crawlspace waterproofing Lake Ariel, basement water damage repair Lake Ariel, basement waterproofing contractors Lake Ariel, water damage service Lake Ariel, water damage contractors Lake Ariel, water damage restoration service Lake Ariel, water damage remediation service Lake Ariel, emergency water damage restoration Lake Ariel, flooded basement Lake Ariel, mold removal contractors Cresco, mold remediation services Cresco, toxic mold remediation Cresco, crawlspace waterproofing Cresco, basement water damage repair Cresco, basement waterproofing contractors Cresco, water damage service Cresco, water damage contractors Cresco, water damage restoration service Cresco, water damage remediation service Cresco, emergency water damage restoration Cresco, flooded basement Cresco
---

PO Box 29, Sterling, PA 18463 | 1-877-379-8669  | integraclean@gmail.com
570-676-8862 | 570-992-1553 | 570-696-6855
Copyright © 2017 Integra Clean & Dry LLC | All Rights Reserved